The SPYDERCRANE PC094 and PC295 are the latest additions to the SPYDERCRANE brand. Engineered and built in the United States, we designed the PC094 and PC295 machines to be simple to operate but robust when working on tough jobsites. The PC094 and PC295 machines allow for transport of materials and boast valuable safety features such as automatic drive-wheel breaking on the front wheels and turnover prevention technology.
Thinking about a rental? Need a little help to decide what model will work best for your project?
Request a quote and one of our highly experienced sales staff will get back to you soon.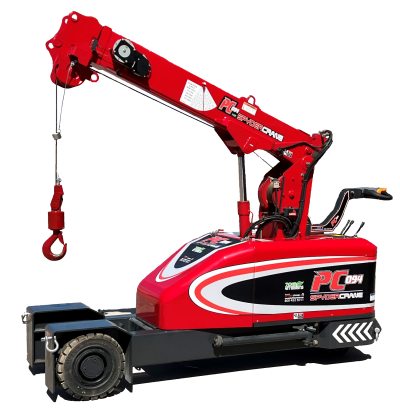 SPYDERCRANE Pick and Carry Series
| | | Available Soon |
| --- | --- | --- |
| Model | SPYDERCRANE PC094 | SPYDERCRANE PC295 |
| Max Capacity | 1,990lbs at 4.9 ft | 5,070lbs at -.7 ft |
| Boom Length | 18 ft | 22 ft |
| Approximate Tip Height | 22 ft | 24 ft |
| Wire Rope on Drum | ~75 ft | ~254 ft |
| Travel Dimensions (W x H x L) | 31″ x 51″ x 74″ | 38″ x 70″ x 106″ |
| Approximate Foot Print (Outriggers Deployed) | 10'6″ x 10'6″ | 8'8″ x 8'10" |
| Approximate Foot Print (No Outriggers) | 6′ x 7′ | 3.1′ x 8.8′ |
| Weight of Crane | ~2,400 lbs | ~4,100 lbs |
| | | |
| --- | --- | --- |
| Model | SPYDERCRANE PC094 | SPYDERCRANE PC295 |
| Battery w/ 110V Electric Recharge | Standard | Standard |
Model
SPYDERCRANE PC094
SPYDERCRANE PC295
Single Part Line
Optional
Optional
2-Part Line
Standard
Standard
Variable Geometry Outriggers
Standard
Standard
Automatic Throttle Advancement
Standard
Standard
On-board Self Diagnostic
Computer System
Standard
Standard
Full Function Wireless Remote
Standard
Standard
Automatic Hook Store
Standard
Standard
| | | |
| --- | --- | --- |
| Model | SPYDERCRANE PC094 | SPYDERCRANE PC295 |
| Non-marking Tracks | Optional | Optional |
| Arctic Kit / 12V & 110V Combo | Optional | Optional |
| Crane Lube Kit (Lube-a-Boom) | Optional | Optional |
| Fire Extinguisher | Optional | Optional |
| Spare Parts Kit (2-Year Supply) | Optional | Optional |
| Track Mats 3' x 6' (Set of 3) | Optional | Optional |
| Outrigger Pads | Optional | Optional |
| Trailer & Accessory Kit | Optional | Optional |
| Rigging | Optional | Optional |
| Spare Key (Pair) | Optional | Optional |
| Steel Pallet w/Fork Pockets | Optional | Optional |
| Strobe Light | Optional | Optional |
| Weatherproof Cover | Optional | Optional |