MAVLift™ Off-Road Glazing Robots are mobile, precision control, articulating vacuum lifters used for setting glass and other materials. Designed for rough jobsites, these outdoor glazing robots offer large rugged tires and a powerful front wheel drive system. Coming standard with a precision multi-function wireless remote control and offering models capable of setting glass over 16′ overhead, glaziers are completing jobs safer and faster than ever before.
Just like our indoor glazing robots, the MAVLift Off-Road Glazing Robot offers 90° sideward swinging for carrying glass or materials into tight spaces. Manufactured using high quality components and thoughtful engineering, these MAVLift Off-Road Glazing Robots may be built tough but have not lost the precision control and soft touch which has become synonymous with the MAVLift name. Offering a a boom that telescopes, lifts, tilts, and rotates a battery driven vacuum unit, setting glass has never been easier.
For added versatility, the MAVLift Vacuum System may be removed and other accessories and attachments are available. Need a forklift on the jobsite but don't want to transport one? Utilize your MAVLift with load forks. If setting poles or pipes is more your style, add a MAVLift Grapple Arm. For extra reach, you can even lift your MAVLift using a forklift and our special MAVLift Fork Lift Platform.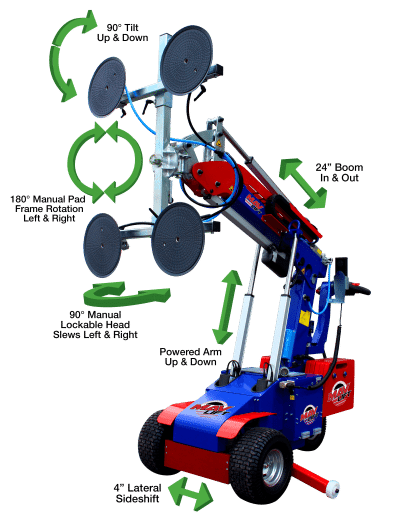 MAVLift Off-Road Glazing Robot
Synchronous Control Ensures a Constant Inclination Angle of Suction Unit (electric function models)

Powered Telescopic Boom

180° Powered Tilting of Suction Unit

Machine Side Shift for Fine Adjustment of Vacuum Unit

Wireless Multi-function Remote allowing Multiple Functions at the Same Time

Self Propelled Front Wheel Drive

24V Electrical Socket

Standard 110V Battery Charger
90° Slewing for Easy Transport of Glass through Doorways or Narrow Spaces

360° Suction Unit Rotation

Rear Wheel Turns 90° for tight 360° Turns

Dual Speed Controls

Removable Counter Weights for Easy Transport

Safety Features such as an Overload Switch, Stop Switch, and Vacuum Lost/Overloading Indicator

Rugged Off-Road Tires