The SPYDERCRANE URW500 Series is the second largest for size in the SPYDERCRANE family. Offering models with a lifting capability up to 8,920 lbs. at 8.0 ft, the URW500 Series leaves little to be desired.
Like all Spydercrane mini-crawlers, the 500 Series is technologically advanced with its standard safety features. Standard features include an Electronic Display Load Moment Indicator, On-board Self Diagnostic Computer System, and a Full Function Wireless Remote to make operation a breeze while lifting some serious weight.
In addition to the 500 Series standard features, both 500 Series models come standard with a Quick Disassemble System. The Quick Disassemble System allows for the outriggers, boom, and frame assembly to be removed from the carrier to reduce the weight of the crane for transport or hoisting.
The 500 Series Cranes are mostly used in areas that a standard crane can't get to, but the need to move heavy items still exists. Look for this crane on many steel construction sites doing some serious lifting.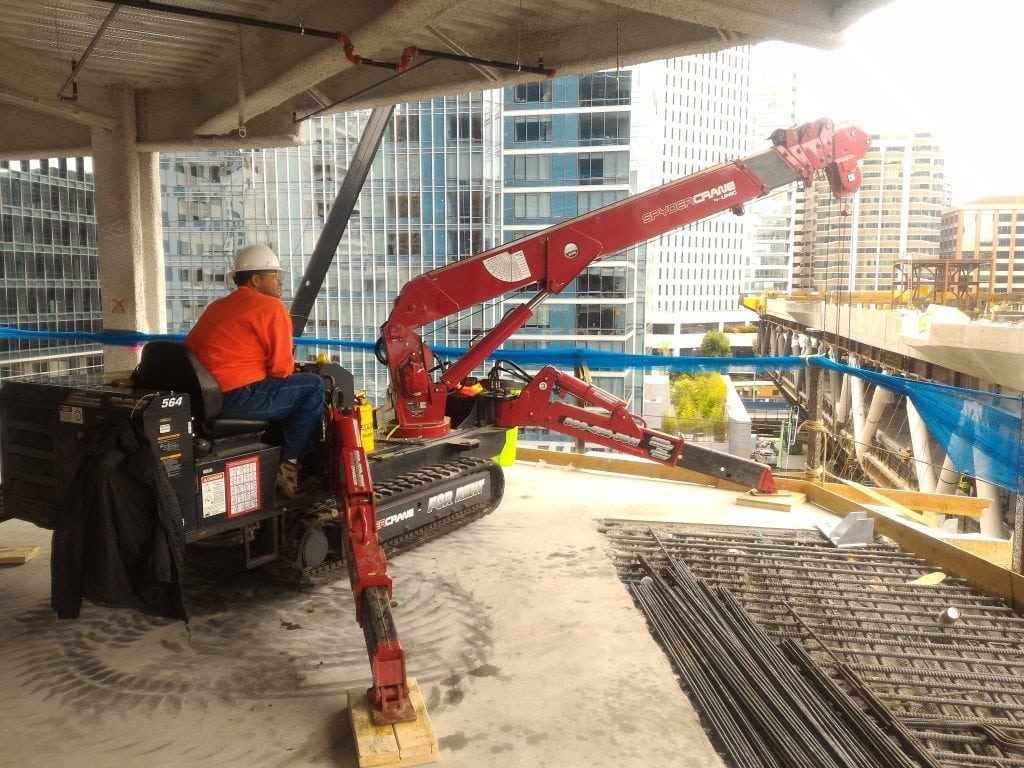 | | | |
| --- | --- | --- |
| Model | SPYDERCRANE URW506* | SPYDERCRANE URW547 |
| Max Capacity | 5,800 lbs @ 12.0′ | 8,920 lbs @ 8.0′ |
| Boom Length | 49'10" | 59′ 2″ |
| Approximate Tip Height | 54 ft | 68 ft |
| Wire Rope on Drum | ~300 ft | ~300 ft |
| Travel Dimensions (W x H x L) | 54″ x 78″ x 195″ | 54″ x 78″ x 195″ |
| Approximate Foot Print (Max) | 19'6″ x 19'6″ | 19'6″ x 19'6″ |
| Approximate Foot Print (Min) | 15'6″ x 15'6″ | 15'6″ x 15'6″ |
| Weight of Crane | ~11,000 lbs | ~11,000 lbs |
Model
SPYDERCRANE URW506*
SPYDERCRANE URW547
Single Part Line
Optional
Optional
4-Part Line
Standard
Standard
Load Moment Indicator
with Electronic Display
Standard
Standard
Automatic Throttle Advancement
Standard
Standard
On-board Self Diagnostic
Computer System
Standard
Standard
Full Function Wireless Remote
Standard
Standard
Automatic Hook Store
Standard
Standard
Model
SPYDERCRANE URW506*
SPYDERCRANE URW547
Attachable Work Platform
Optional
Optional
Non-marking Tracks
Optional
Optional
SPYDERWEB Glass Manipulator
Optional
Optional
Woods Pwr Grip Hanging Cups
Optional
Optional
Exhaust Scrubber/
Catalytic Converter
Optional
Optional
Arctic Kit / 12V & 110V Combo
Optional
Optional
Crane Lube Kit (Lube-a-Boom)
Optional
Optional
Fire Extinguisher
Optional
Optional
Spare Parts Kit (2-Year Supply)
Optional
Optional
Track Mats 3' x 6' (Set of 3)
Optional
Optional
Outrigger Pads
Optional
Optional
Trailer & Accessory Kit
Optional
Optional
Rigging
Optional
Optional
Spare Key (Pair)
Optional
Optional
Steel Pallet w/Fork Pockets
Optional
Optional
Strobe Light
Optional
Optional
Weatherproof Cover
Optional
Optional