The MAVLift™ Indoor Glazing Robot is a precision control, mobile, articulating vacuum lifter. Especially designed for indoor use, the MAVLift Indoor Glazing Robot offers a boom that telescopes, lifts, tilts, and rotates a battery driven vacuum unit for precision glass or material sets. Revolutionary in design, the MAVLift may be used to transport glass or materials and can slew the load sideways +/- 90° for easy transport through doors or narrow spaces. Once inside, position your MAVLift and set your glass using it's precision wireless remote control. Offering vacuum lifters capable of lifting over 3080 lbs, you will soon see why the MAVLift is the clear choice for setting glass and materials.
Although a relatively compact and easy to transport precision glass lifter, the MAVLift Indoor Glazing Robot offers thoughtful features and options. For glaziers that set overhead glass panels, the MAVLift Robot Product Line offers articulating models that can reach up over 16″ overhead. Have a project that you need to free hang glazing cups? No problem, with our handy MAVLift hook adapter, you can quickly turn your MAVLift Robot from a precision articulating glass handler into a mobile boom to free hang your glass cups.
If even more versatility is needed out of your MAVLift, add some load forks, a grapple arm, or even a fork lift platform. These optional features make your MAVLift a all-in-one machine on a tough job-site.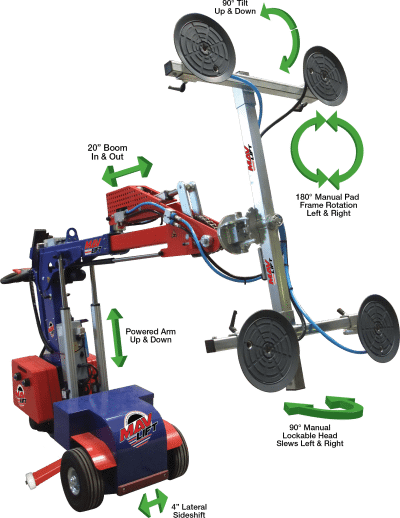 MAVLift Indoor Glazing Robot
Synchronous Control Ensures a Constant Inclination Angle of Suction Unit (electric function models)

Powered Telescopic Boom

180° Powered Tilting of Suction Unit

Machine Side Shift for Fine Adjustment of Vacuum Unit

Wireless Multi-function Remote allowing Multiple Functions at the Same Time

Self Propelled Rear Wheel Drive

24V Electrical Socket

Standard 110V Battery Charger
90° Slewing for Easy Transport of Glass through Doorways or Narrow Spaces

360° Suction Unit Rotation

Rear Wheel Turns 90° for tight 360° Turns

Dual Speed Controls

Removable Counter Weights for Easy Transport

Safety Features such as an Overload Switch, Stop Switch, and Vacuum Lost/Overloading Indicator

Solid Rubber Tires